PLATELET AGITATOR CUM SHAKER
PLATELET AGITATOR CUM SHAKER PA-34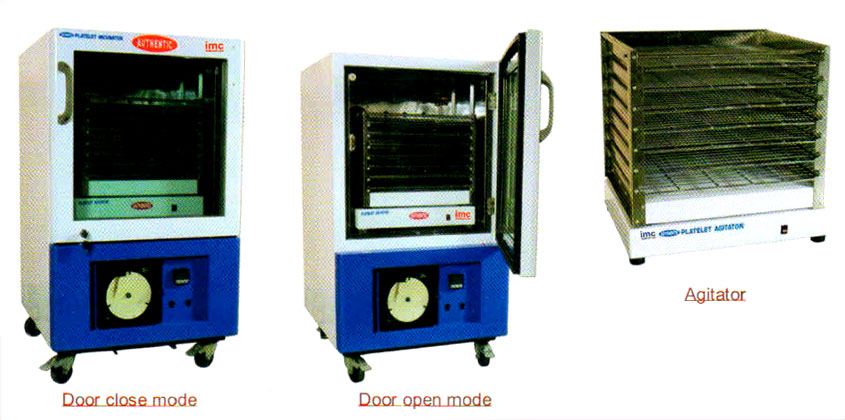 Specification:-
Construction:- The chamber is to be constructed in double wall. The interior of the chamber is to be made of Stainless Steel and the exterior is made out of Stainless Steel & Control Panel is made of CRCA MS sheet with two coats of primer and 3 coats of DUCO paint with puff insulation in between. The chamber is to provide with a full front opening door. The door is to be fitted on the chamber by heavy-duty hinges and lockig arrangement. Gas kit on the door. The Refrigerator is filled with Castor wheels for ease of mobility.
Insulation:- PUFF insulation for better power saving purpose.
Temp. Controller:- PID (Programmable) Microprocessor Based Temprature Controller used for controlling 22° C +_ 1° C accuracy: 0.1°C.
Temp. Recorder:- Chart Recorder (Range -50 to +50°C), Accuracy: 0.2°C, for Temp. Display visually & for continous weekly.
Control Panel:- Controls to compromise fully automatic temperature Indicator cum PID (Program.) Microprocesser Based Temperature Controller with PT - 100 Sensor, Temp. Recorder, Compressor, fans, Alarms etc.








Top